Lightening Times

A Blog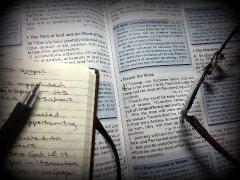 Definition of "inertia": the tendency to do nothing.
"I charge you therefore before God and the Lord Jesus Christ, who will judge the living and the dead at His appearing and His kingdom: Preach the word! Be ready in season and out of season. Convince, rebuke, exhort, with all longsuffering and teaching. For the time will come when they will not endure sound doctrine, but according to their own desires, because they have itching ears, they will heap up for themselves teachers; and they will turn their ears away from the truth, and be turned aside to fables. But you be watchful in all things, endure afflictions, do the work of an evangelist, fulfill your ministry." 2Timothy 4:1-5 NKJV
Yesterday was January 1st, 2015. A day for resolutions. Yet, for the first time in my life I hadn't made one.
It wasn't that I was downhearted. I was fully resolved to push on and keep my family together.
It wasn't that I was ungrateful. I was happy, and gave God the credit for having gotten me through another year.
It was that I was being quiet.
Unmoving.
You see the closer I got to the flame the more I was convinced I had to reflect it.
Jesus taught, "You are the light of the world. A city that is set on a hill cannot be hidden. Nor do they light a lamp and put it under a basket, but on a lampstand, and it gives light to all who are in the house. Let your light so shine before men, that they may see your good works and glorify your Father in heaven." Matthew 5:14-16 NKJV
Have you felt it before?
It builds up slowly until you are so uncomfortable in your own skin that you have to do something.
And every thing you read and hear on television seems to have a double meaning.
I knew it wasn't a coincidence this New Year's Day when three sermons in a row on 3ABN Broadcasting were all on the same subject. [And one was recorded earlier.] They all entreated to repeat the message.
This was exactly NOT what I had been willing to do my whole life! Fifty years of hanging back, too shy, too embarrassed. Letting someone else go. I was too used to being comfortable and safe. I couldn't make a sound.
But this day something was different.
One preacher used a word to describe it. Impelled.
Definition of "impelled": driven or urged forward.
I tried the word out softly aloud myself. Enunciated the syllables slowly and the word felt exactly right. It was what had happened to me. And as soon as it was thought, I knew there was no turning back, I was committed.
I have to tell others.
_________________________
Some hours later, it was the next day. I sat again with my husband in my livingroom becoming absorbed in a documentary on television. Then the dogs barked. And barked some more. Finally I was aroused to awareness. There was a strange smell in the air.
And I knew I had to go right then! I was out of my chair in a flash heading downstairs.
I saw thick black smoke already blanketed across the ceiling. It was coming from the downstairs kitchen. I hurried to go into it to face the unknown.
Then it occurred to me... I must warn everyone in the household so they could be safe.... and come to help me too.
I opened my mouth, what else could I yell,
"Fire!"
At the alarm, my son and his wife ran sleepily from their bedroom each to exclaim their shock and unawares. My bewildered husband was soon there, demanding what was happening.
I was already in the kitchen by then, suffocating the flames, and adding a dowse of cold water, but it felt good to feel their support a few steps behind me.
Without hesitation, when the situation became desperate I called out to save my family from the fire.
Impelled to action, I found my voice.
__________________________________
"Then I saw another angel flying in the midst of heaven, having the everlasting gospel to preach to those who dwell on the earth--to every nation, tribe, tongue, and people--saying with a loud voice, Fear God and give glory to Him, for the hour of His judgment has come; and worship Him who made heaven and earth, the sea and springs of water.
And another angel followed, saying Babylon is fallen, is fallen, that great city because she has made all nations drink of the wine of the wrath of her fornication.
Then a third angel followed them, saying with a loud voice, If anyone worship the beast and his image, and received his mark on his forehead or on his hand, he himself shall also drink of the wine of the wrath of God, which is poured out full strength into the cup of His indignation. He shall be tormented with fire and brimstone in the presence of the holy angels and in the presence of the Lamb. And the smoke of their torment ascends forever and ever; and they have no rest day or night, who worship the beast and his image, and whoever receives the mark of his name.
Here is the patience of the saints; here are those who keep the commandments of God and the faith of Jesus." Revelation 14:6-12 NKJV
This proclamation is about to happen. There are signs to warn us if we will only arouse to its imminence...
I must to alert more to safety. I can't keep this to myself.
So I start here, with you, dear reader, because I have to begin somewhere. And as you see this you can be sure the Holy Spirit has led you here. The three angels message may sound cryptic and mystical in its description of a beast and its image. But there is truth in the word of God and everyone needs to read their Bible to find out what events are about to happen.
I'm going to share what I've learned while there's time. Its of utmost importance.