| | | |
| --- | --- | --- |
| | Waiting List for Future Puppies | |
Fill out the Application for the Current Waiting List
GO ON THE WAITING LIST
AND RECEIVE THESE SERVICES:
Priority New Litter Notification

First Choice Pick from New Puppies

Reservation of Unborn Puppies
Scroll down the page to read who is on the list
Here's how the waiting list works

The waiting list is $200. Put that down now and it reserves your choice of every litter born in the order the waiting list deposits are received. You get to preview photos ahead of time before puppies are offered to the public. The earlier you send your deposit in, the higher in priority on the list to select your favorite puppy from the litter.
At the time you are given photos to choose the specific puppy you may reserve it with half down (the $200 goes toward that half down). Then the remainder is due when the puppy is 8 wks. old. Your chosen puppy ships after that.
1) Fill out the Waiting List Deposit Form below.
2) You will be contacted with payment methods to hold your place on the waiting list.

Our Present Pocket Beagle Waiting List!
#1 Harrison
#2 Jaye
#3 Lessie
#4 Sandi
#5 Robin
#6 April
#7 Lexie
#8 Lea Anne
#9 Barbara
#10 Todd
#11 Hillary

Our New Pocket Bear Waiting List is just starting!
#1 Donald
#2 Ginger
#3 Simeon

Already Satisfied Past Waiting List Patrons:
#6 Neal-- purchased Astro
#10 Jordan--purchased Louis
#11 Pamela--purchased Duke
#12 Clyde & Leslie--purchased Duchess
#13 Inbal--purchsed Paige
#14 Molly--purchased Abbott
#17 Marcia--purchased Tater
#10 Erik & Rachel--purchased Tudor
#8 Barbara--purchased Sunlight, now "Zoey"
#10 Maggie--purchased Anne
#8 Mary--purchased Sherry
#11 Talia -- purchased Hippo
#9 Diane--purchased Mariah
#13 Lance --purchased Hunter
#14 Brett-- purchased TWO! Derek and Tom Thumb
#7 Brooke--purchased Sage
#10 Stephanie-- purchased Louise
#2 Amit-- purchased Dooley
#9 Bob-- purchased Noor

#7 Erroll-- purchased Casper

#8 Samantha --purchased Bhaer
#7 Johanna--purchased Curio
#9 Brittany--purchased Hero
# 14 Robyn--purchased second puppy, Maple
#12 Mary -- purchased Quince
#8 Sheri--purchased Angel Baby
#9 Patricia--purchased Silver Bell

#9 Lori & Bill-- purchased Stacey
#14 Wanda--purchased Garland
#13 Juanita--purchased TukTuk
#11 Shoji-- purchased Flint
# 13 Thomas-- purchased Foggy
#13 Jeanie --reserved Dove or Cloud
#11 Carol -- reserved Raya
#14 Michelle-- reserved Kylie
#3 Elizabeth --purchased Wodonga
#14 Barb -- purchased Monte
#11 Bekah-- purchased Alexis
#14 Mary--purchased Othello
#5 Christine--purchased Canasta
#11 Sara--purchased Savannah
#8 Nancy Jo--donating her deposit to Get-A-Wag
#12 Stephanie--purchased Bentley
#12 Robert--purchased Joe Cool
#10 Jordan--purchased Jumanji
#12 Odette--purchased Butch
#9 Jessica -- purchase Sir Echo Harlequin
# 21 Suzanne--purchased Frisky
#7 Diana-- purchased Minnie
#17 Luz-- purchased Sweet Baby James
#19 Tommy--purchased My Michelle
#15 Lauren--purchased Rocco
#3 Amanda--purchased Runaround Sue
#7 Natalie--purchased
Deposits remain GOOD for a future puppy!
Waiting List Patrons with Request for Beagle ON HOLD:

#1 Ryan is waiting to pick just his perfect choice in a small beagle:
Would like a smaller puppy such as the pocket beagle in either brindle or a nice tricolor. I'm very picky with dogs and this one seems to be the perfect choice! Also, would prefer a male.
--Ryan 04/13/16

#2 Paula is waiting for a small female tricolor beagle:
It is for my daughter. She is a extreme dog lover as is are entire family. She plans to wait until she goes to college.
--Paula 08/29/16

#3 Mandy is waiting for a teacup tricolor female beagle summer 2017:
We have a full-time nanny that won't work around animals due to allergies. She has been with us for 3 years. Our last child will be starting school in the Fall 2017; therefore, we will part ways with our nanny and be able to get our puppy.
--Mandy 08/30/16i

#4 Stephanie is waiting for a small pocket beagle estimated to weigh 5 lbs. as adult.
We like the look of the tricolor beagles the best, but bicolor is a close second. We don't think we have a preference on gender. This will be our family's first dog, so we are very excited! If you can tell as a puppy if it will be easy to train, that would be helpful for us since we are novices.
--Stephanie 09/27/16

Deposits remain GOOD for a future puppy!
Waiting List Patrons with Request for Beagle ON HOLD:

#5 Tara

#6 Kim

#7 Brenda is waiting for a female no bigger than 6-8 lbs. harlequin, blue eyes!
My dream dog would have a very affectionate happy personality and be very attached to me as she will be my emotional service dog as prescribed by my doctor. She will go everywhere with me and never be left alone.
--Brenda 01/31/17

#8 Connie

#9 Scott

#10 Ashley

#11 Sara
More satisfied waiting list patrons:
Mike has chosen Bruno the beagle instead! 11/15/17
[Was #5] Mike is waiting for a male Rottie or Boxer Bear. We want short hair.
Our daughter is getting impatient....We are excitted to add a puppy to our home to join our two cats.
--Mike 09/01/17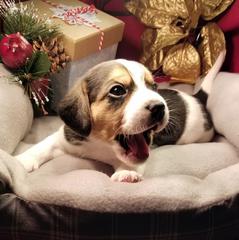 Bruno
Tricolor Pocket Beagle
Small Standard Male $1600
DOB 09/29/17 Est. <25 lbs. grown

Amy has chosen Bailey! 3/09/17
[Was #9] Amy is waiting for a male no bigger than 10-12 lbs. tricolor for June 2017.
Our kids have been asking for a puppy for forever and they fell in love with the pocket beagles! This will be our first family dog and we're so excited. He will be so loved!
--Amy 3/4/17



Bailey
Tricolor Pocket Beagle
Queen Elizabeth Female $2000
DOB 02/10/17 Weight 1 lb. 10 oz.

Brad has chosen Chewbacca! 1/27/17
[Was #6] Brad WAS waiting for a male tri-color pocket beagle.
I don't want one too small but was thinking more along the lines of a 15-20 lb size.
--Brad 11/29/16



Chewbacca
Tricolor Pocket Beagle
Queen Elizabeth Male $2000
Estimated to be 14-16 lbs. grown
Congratulations to Brad for purchase of Chewie!

Devi has chosen Chaz! 10/10/16
[Was #4] Devi WAS waiting for a teacup or pixie beagle, male is preferred:
Would like a playful, friendly puppy that we can train and will be a good addition to our family.
--Devi 09/08/16
Sable and White Pixiebeagle
Estimated to grow to 5 lbs. as adult
Extra-Small Male $2450
Congratulations to Devi for purchase of Chaz!
Chelsea has chosen Esther! 10/23/16
[Was #6] Chelsea WAS waiting for a very small tri-color pocket beagle.
My kids are dying for a very small tri-color pocket beagle. This is our first dog but they have been asking for years and years. I have finally agreed because how can you not resist after seeing your photos. Like Angle, Jasmibella, or if two tone then like Sam or Stockings. This will be my 11, 9, and 6 year old Christmas dream come true.
--Chelsea 10/12/16
Esther
Classic Tricolor Queen Elizabeth Pocket Beagle
Female $2000
Congratulations to Chelsea for purchase of Esther!
More Happy Buyers of Queen Elizabeth Pocket Beagles:
Jennifer WAS waiting to pick a female, fawn/light in color Pocket Bear:
She will stay small when fully grown(7-12 lbs.), great with kids and other dogs, doesn't shed, doesn't drool, playful, easy to house train
--Jennifer 03/20/17
She has chosen Pattie!
05/17/17
Falon WAS waiting for a cute female with the classic beagle look...
...with a calm and playful disposition. We have a dog and cat that need a new little sister! --Falon 06/14/17
But she thought this teacup boy was cute as the DICKENS!
07/03/17
See her reference
Laura WAS waiting for a Queen Elizabeth Pocket Beagle.
My seventeen year old beagle passed....I raised her from a baby. I prefer a female.
--Laura 03/02/17
She has chosen Merry!

05/12/17
Georganna and Jim WERE waiting for a small female tricolor pocket beagle.
We are very excited! This will be our first beagle, although I have wanted one since I was a kid. So, we might need a little help in choosing the best, and luckiest little beagle ever that gets to move to Idaho and become part of our family. I'm thinking we will be pretty lucky,too!!
--Jim 03/13/17
They have chosen Jillie!
05/31/17


This Waiting List has ended!

#1 is still waiting for a puppy.
#2 Amy is waiting for a sweet natured female beagle to play with her son:
We have been interested for quite some time and now we are finally ready for a furry family member! We are looking for a small female Beagle - either classic tricolor or Silver Harlequin tricolor. We would prefer under 14 pounds. Sweet natured, even tempered, easy to train, a big cuddler but also ready to play with my 8 year old son. We'd prefer a puppy that is ready to come home sometime in the fall.
--Amy 05/09/16
Curly Coat Tricolor
Estimated to grow to 12-14 lbs. as adult
Teacup Female $1800
Congratulations to Amy and Son!
Good Reference: 07/09/16: We are in love with this sweet puppy!! My son named her Lucy. She is so smart and sweet!! Traveled great in the car yesterday in a portable kennel. Pottying outside and letting me know when she has to go. Walking great on a leash and harness. Eating and drinking well. Vet check up was great too. Just needed another round of deworming. Thank you for her, she is such a blessing!


#3 Liam is waiting for a tricolor beagle, a family dog, to take on trips:
We have 3 kids who have been begging for a small dog for ages :). After extensive searching , and research the whole family loves the look of the Queen Elizabeth Beagles. We would prefer a dog on the smaller size - and the classic tri-color look reminds me of my own dog when I was a kid growing up.
I will be the primary carer/trainer for the puppy when he/she comes to our house - and I will most likely be bringing he/she to work with me once trained. That said , we are looking for a dog that will be part of the family and not just attached to one of us. We have a somewhat hectic lifestyle - so will need to be able to go for short trips in the car pretty often and on longer trips when camping or heading to the snow for some winter fun.
--Liam 05/11/16
Stripes
Classic Tricolor
Estimated to grow to 14-15 lbs. as adult
Teacup Male $2000
Congrats to Liam
#4 Lonnie is waiting for a tricolor beagle, to pick up in the Fall:
Classic tri-color. Approx 15 pounds. Physical profile same as fulll size Beagle. with longer legs. Able to be kept in apt. OK to stay home alone at times. I would like it to be as close to the standard Beagle as possible in color (tricolor) and appearance. I am looking for a male or female that would be available after Sept 1, 2016.
--Lonnie 05/19/16
Liberty
Classic Tricolor
Estimated to grow to 15-16 lbs. as adult
Teacup Female $2000
Congrats to Lonnie
This waiting list is fulfilled!
#1 Annette is waiting for a small beagle:
After going over your web site again and again and will keep looking at it, it sounds like a Queen Elizabeth pocket beagle is the dog for me.
My dream dog is a female and weighs in about 5 to 10 lbs., smaller is ok but not really more than 10 lbs.
She is a playful dog and also likes to just hang out and be loved. She is kind, loving and a great companion for me and at the same time wants to be loved back. I would like her to have social skills so when I'm not at work she can go with me everywhere I go. And at the same time be ok with staying home when need be. Not too hyper as I had a "Jack Russel" for 14 years.
An intelligent dog that I can house train, and also teach some tricks to.
--Annette 1/31/16
Guinivere
Silver Harlequin Tricolor
Estimated to grow to 11-14 lbs. as adult
Teacup Female $2350
Congrats to Annette
#2 Odette is waiting for a trainable beagle:
We prefer a male in the 10-12 lb range. We also prefer the longer-legged variety with the beagle ears and profile.
We like the tri-color classic look with more tan on ears and face and resembling a beagle. We also love the tan-on-tan and white coloration

but are not locked into any one look

. They're all quite lovely.
We want a social dog whose moods and energy levels can match our own. We currently have a Jack Russell who is spirited and energetic but also relaxed and quiet when we are.
We'd like a smart, inquisitive dog who is trainable.
Merlin
Classic Tricolor
Estimated to grow to 12-15 lbs. as adult
Teacup Male $2150
Congrats to Odette
Puppies may be BOARDED longer at their breeder's home if you need this service. Each breeder charges individually for each day to cover food, cleaning, dewormings, and immunizations.

You may reserve your right for priority choice
from this litter and all the coming ones: Go on the Waiting List
Fill out your online 1 Year Health Warranty & purchase guarantee
Customer Service Available TEXT 812-278-4174
Email:therapypuppy@gmail.com
Waiting List Puppies by Beloved Canines of TN
Waiting List Patrons choose first....then your reservation
will be considered in the order received after midnight Sunday.